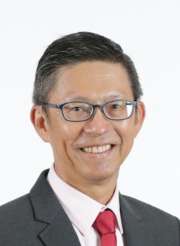 Ong See Ho : Advisor
Ong See Ho is the Advisor of ECAS Consultants Pte Ltd.  He is a registered Professional Engineer and an Accredited Checker.  He has more than 40 years of experience in the design and construction of buildings and infrastructure projects, and in regulating building works.
Mr Ong has a wide range of experience in the built environment sector, from design, checking and supervision of building and infrastructure projects at Changi Airport Phases 1 and 2, to regulating building works as the Commissioner of Building Control and Deputy Chief Executive Officer (Building Control) in Building and Construction Authority.  He was also involved in the planning and supervision of geological investigation works, project management of infrastructure developments, and planning of Singapore's coastal protection needs.  He was the Registrar of the Professional Engineers Board from 1999 to 2005.
Mr Ong is a Fellow of both the Institution of Engineers of Singapore and the Institution of Structural Engineers of the United Kingdom.