Leong Boon Cheng: Director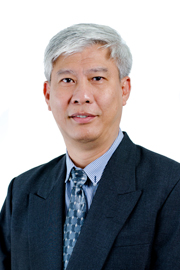 Leong Boon Cheng has been a Director of ECAS Consultants Pte Ltd since 2011. He is a Professional Engineer with more than 19 years of professional experience in civil engineering both in design and construction, and has a strong background in deep basement excavation.
Mr. Leong has been a key player in the enhancement works to numerous MRT and LRT Stations, being appointed Qualified Person Supervisor for works at the Chou Chu Kang MRT and LRT Stations, and the Bishan Depot. He was involved in the design and construction of the Spectra Secondary School in Woodlands and the residential condominium Seastrand. He also has experience in land reclamation projects, factories, shopping complexes, and conservation of existing pre-war shophouses.
Mr. Leong is a Professional Engineer in Singapore and Malaysia, member of the Institution of Engineers in both Singapore and Malaysia, and a member of the Structural Steel Society of Singapore.
He received a Master of Engineering in International Construction Management from the Nanyang Technological University in Singapore in 1997 and a Bachelor of Engineering in Civil and Structural from the National University of Singapore in 1988.