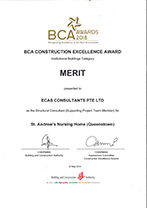 St. Andrew's Home in Queenstown has been awarded the BCA Construction Excellence Award 2018 under the Institutional Buildings Category. The award recognizes construction projects that have demonstrated excellent performance.
The project team was composed of Architects Team 3 (Architecture), CMC Construction Pte Ltd (Construction) and ECAS Consultants Pte Ltd (Structural Consultant).
St. Andrew's Home has a total gross floor area of 11,000m2. It was developed to provide integrated residential care (including dementia care), centre-based services and home care services for the elderly in the area.