Chan Ewe Jin: Managing Director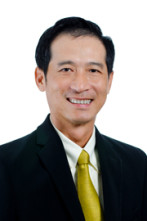 Mr Chan Ewe Jin has been the Managing Director of ECAS Consultants Pte Ltd since 1996. He is a registered Professional Engineer and an Accredited Checker with the Building and Construction Authority (BCA) of Singapore. He has more than 25 years of experience in the design, accredited checking, project control and supervision of numerous residential, industrial and commercial buildings and infrastructure projects.
He has been a Fellow Member of the Institution of Engineers of Singapore since 2003, and the Institution of Structural Engineers of the United Kingdom since 2009.
Mr Chan was elected as a Board Member of the Professional Engineers Board, Singapore (PEB) from 2017 to 2020 and from 2009 to 2014.
He is the current Vice President, starting from 2020, of the Infrastructure Cluster at the Institution of Engineers, Singapore (IES); he also held this position from 2015 to 2018. He is a current Council Member and has held various posts at IES over the years. He has been the Chairman of the Standards Development Organisation Steering Committee since 2015, and has been the Co-Chairman of the Joint Accreditation Committee to RE/RTO Registry since 2016.  He was the Chairman of the Civil and Structural Engineering Technical Committee from 2015 to 2018.
He has been a Board Member of the Strata Title Board since 2011. He has contributed his professional knowledge as a member of various committees and panels. Under Ministry of Law, he is a current member of the Panel of Assessors of the Appeals Board, (Land Acquisition). He has been a member of two committees under Enterprise Singapore since 2016: Building and Construction Standards Committee (BSBC) and the Technical Committee of Building Structure and Sub-structure. He has been a member of the Advisory Committee for Management Systems and Product Certification (ACMP) TÜV SÜD since 2017. He has also been a member of the IES-ACES Qualified Erosion Control Professional Registration Panel under the Public Utilities Board since 2008.
He was a member of three organisations previously: Discipline Panel, Council of Estate Agencies (2010-2017), SAC Council Committee for Inspection Body, Singapore Accreditation Council (2015-2018), and the Buildability and Quality Advisory Committee, BCA (2018-2020).
Enterprise Singapore awarded Mr Chan the SAC Merit Award, Singapore Accreditation Council in 2007, and the Merit Award, Quality & Standard in 2015. He was a recipient of the MND (Ministry of National Development) Medallion in 2015, 2016, 2017 and 2020. He was also awarded the Outstanding Service Award by MND in 2017.