Chan Ewe Jin: Managing Director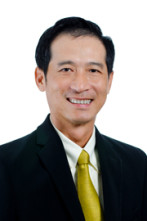 Mr Chan Ewe Jin has been the Managing Director of ECAS Consultants Pte Ltd since 1996. He is a registered Professional Engineer, an Accredited Checker with the Building and Construction Authority (BCA) of Singapore, and a Qualified Erosion Control Professional (QECP). He has more than 25 years of experience in the design, accredited checking, project control and supervision of numerous residential, industrial and commercial buildings and infrastructure projects.
He is a Fellow of both the Institution of Engineers of Singapore and the Institution of Structural Engineers of the United Kingdom. He is a board member with the Strata Title Board and a past board member of the Professional Engineers Board.
Mr. Chan has been a key person in the development of MRT stations of the Downtown Line, Thomson-East Coast Line, and the North East Line. He was appointed Qualified Person Supervisor for the design, construction, and completion of the Marina Coastal Expressway at Marina Wharf and Accredited Checker for MRT stations and tunnels for the Thomson-East Coast Line. Moreover, he has been involved in the construction of buildings for residential, commercial, and industrial purposes such as Greenwich V, Scotts Square and Lumos Condominium.
Mr. Chan received a Master of Science in Geotechnical Engineering from the National University of Singapore in 2012, a Master of Science in International Construction Management from Nanyang Technological University of Singapore in 1994, and a Bachelor of Civil Engineering from the National University of Singapore in 1988.