Since the inception of Design for Manufacturing and Assembly (DfMA) technologies, ECAS has been actively involved in exploring, promoting and adopting such technologies in its projects. Last 29 May 2019, its efforts in advocating for such technologies and implementing innovative designs that significantly improve construction site productivity was formally honoured at the BCA Awards 2019.
ECAS proudly received the Construction Productivity Merit Award – Advocates (Consultant). The firm-level award was introduced in 2013, to recognise outstanding developers, consultants, builders and specialist contractors for their achievements in improving productivity. Assessments are made on efforts toward designs, construction methods, processes and/or technologies adopted that have significant productivity impact on their projects.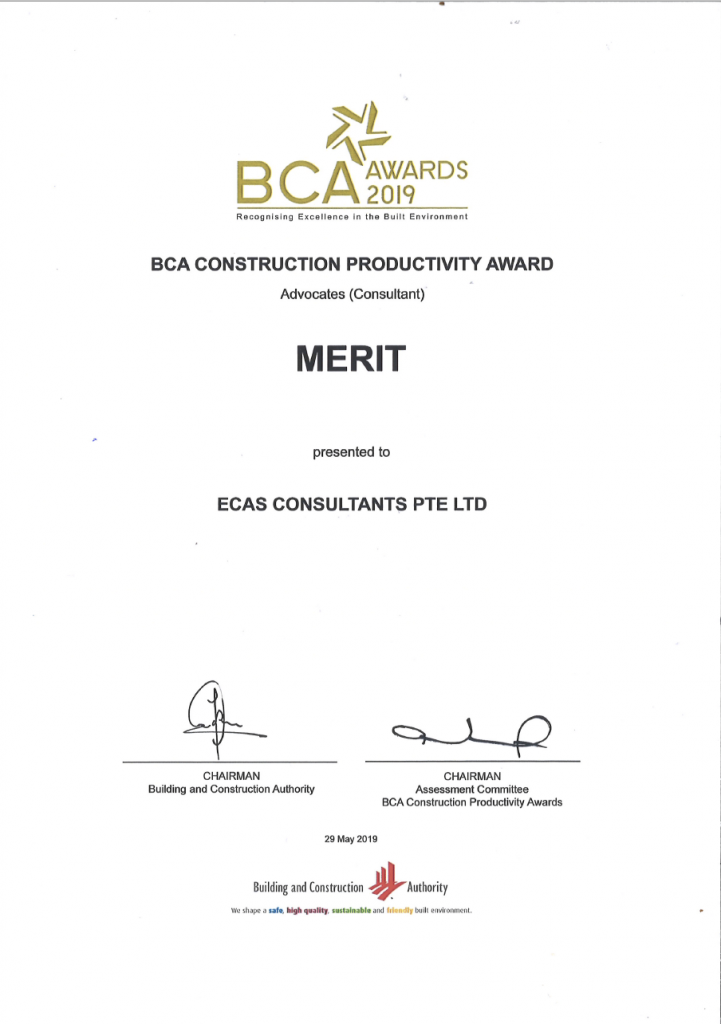 Among its innovative works include the use of single-piece timber curve rafter with continuous span of 24m without joints at the Pei Hwa Secondary School Indoor Sports Hall, which effectively enhanced the speed of installation on site.
ECAS also proposed to use a single piece, 3-tier glued laminated timber (glulam) column for the 4-storey building at Yu Neng Primary School. Moreover, it designed bolted connections for the timber columns and beams. The connections were supported by steel corbels which acted as temporary supports during the placement of the beam. The innovative designs have improved site productivity and reduced material wastage.
The full list of awardees may be viewed at: https://www.bca.gov.sg./Awards/CPA/others/CPA2019_Advocates.pdf